Hello there,
I just came home from work. I've never been so exhausted, I guess I am ready for vacation. Anyways, another Mesh head was born into the grid. I was kinda surprised that LAQ (also known as Laqroki) was the one who did that. A little throwback Thursday: LAQ was like the skin heaven for me, when I had some little money to spent it. I remember being excited for every release Mallory Cowen (Owner of LAQ) was selling, even the Teaser pictures made me crazy as hell. And now – in 2016 LAQ is having a big comeback, and I am quite happy about it, hell yeah nostalgia.
So, there she is! That's Trinity 1.0 and for a 1.0 she is awesome. The head is fitted so you can change headsize, head strech and head length in the shape editing mode. LAQ's recommended values are:
Head Length: 52
Face Shear: 51
Eye Size: 42
Eye Spacing: 39
Eye Depth: 67
Personally I didn't had to change or tweak any of my values, so if you are a fulltime Mesh Head person like me, you are not facing any problems. For people who want to start wearing a Mesh Head, I would use the recommendation above.
What I love the most is that LAQ doesn't use any special system, they are using the Omega system, which is also featured in LOGO's Meshheads, which makes it easier for any designer to do some art with that face.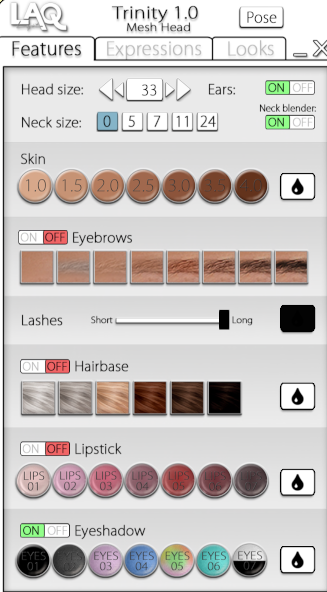 The HUD is divided into three tabs. In the features tab you can change the headsize via the HUD so you don't need to go into appereance mode. Same as many other heads you have the option to change the necksize by clicking on of the numbers.
If you click on one of the skintones, your face will instantly change into the "Wilma" skin which is preinstalled in the HUD.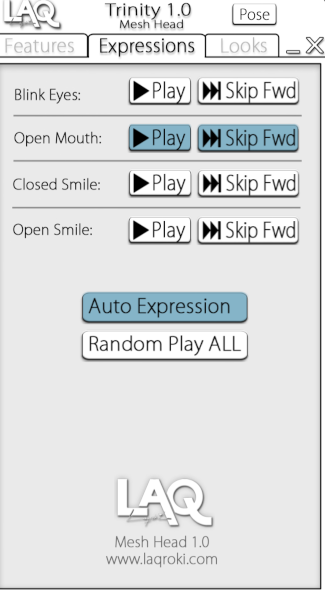 I ADORE the expressions of this head. They all look so natural and smooth. And my personal favorite is that you can click through every frame of the animation, which is perfect for photographers. BTW – her smile is like the cutest I have ever seen.
All of the features and expressions are shown in the video I linked at the end of the post, I would be happy if you take a look at it.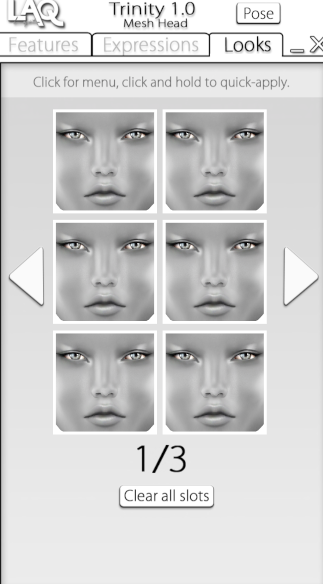 If you found a pretty Make-Up or Skin combination you can also save it in the Looks tab, which is a nice addition if you are not a fan of searching through all of your applier folders in your inventory.
Mallory just made some applier of her older releases, which made me happy cause it contains "Mima" and "Elena" which were my favorite skins back in the days!
So here is the video (please ignore that the lipsticks didn't worked when I tried to change it a second time, it was my SL not the HUD or something, it all works perfect!):
What I am wearing:
Mesh Head: LAQ – Trinity 1.0
Applier: LAQ – Camille
Hair: Lelutka – Brooklyn
Necklace: Yummy – Simple Chains
Top: Addams – Fractal Top
Pants: Spirit – Hip Shorts
Cover Up: Zaara – Reva Cover Up
Thigh Chains: Zaara – Raksha thigh Chains
Sandals: Zaara – Sachi Boho Sandals